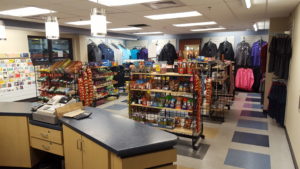 W7 Store Hours:
Monday and Wednesday: 7:00 am – 3:00 pm
Friday: 7:00 am – 1:00 pm
316-517-7652
Have a hankering for a Snickers bar or a Dr. Pepper? Or maybe a wide selection of snacks?  With 5 locations to serve you, the Textron Aviation Employees Club stores have it all! Not only can you buy cheap snacks and Textron Aviation clothing and merchandise, but you can pick up discount concert tickets, movie passes, and coupons as well.
We have items that the vending machines do not offer. Did you forget your safety glasses? We have those. While you are in the store look for headache medicine, batteries, badge lanyards and retractors. Do you need a last minute birthday card? We have a large variety. We have many more items on the shelves so come in and see us!
All of the Textron Aviation Employees Club stores accept cash, checks, debit cards, and VISA / MASTERCARD / American Express credit cards with a $5 minimum purchase.  Cards can be used for tickets, food, and logo item purchases.  No cash back at any location.