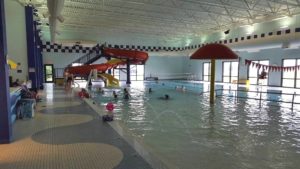 "Restricted Swim"-means NO LIFEGUARD ON DUTY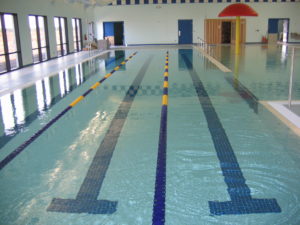 A minimum of 1 swimming adult (age 18 & over) must accompany any children (age 8 & under). All other children under age 14 must be accompanied by a minimum of 1 swimming or non-swimming guardian (age 18 & over). All swimmers not lap swimming must remain in the recreational pool. Water slide is closed. All lap pool swimmers must be age 14 and over during "Restricted Swim."
"Restricted Swim" Pool Schedule
Family Recreational Pool:
Mon – Fri: 5:00 am – 7:45 pm
Saturday: 10:00 am – 11:00 am and 1:55 – 3:45 pm
Lap Pool:
Mon – Fri: 5:00 am – 7:45 pm, 3 lanes open
Saturday: 10:00 am – 11:00 am, 3 lanes open
"Open Swim"-means LIFEGUARDS ARE ON DUTY
Family Recreational Pool will be extended to all water except for 1 lap pool lane. The Slide, Aquashroom and streamers are available. If not, ask Lifeguard for assistance. A minimum of 1 swimming adult (age 18 & over) must accompany any children (age 8 & under). Must be at least 8 years of age to lap swim. Age 8 – 10 years must be accompanied by a guardian (age 18 & over) to lap swim. All lap swimmers (age 14 & over) must maintain a minimum lap swim pace.
(Lifeguard discretion).
"Open Swim" Pool Schedule
Family Recreational Pool and Lap Pool (1 Lane):
Saturday: 11:00 am – 1:55 pm
SAUNAS WILL BE OPEN DURING ALL THE HOURS THAT THE POOL IS OPEN
FITNESS CENTER BIRTHDAY POOL PARTIES AVAILABLE
SATURDAYS BY RESERVATION ONLY
For more information, call 517-2800.